On this date in 1944, Ensign William Eldred Jackson (United States Navy Reserve), age 25, and Nancy-Dabney Roosevelt, age 21, married in Cold Spring Harbor, Long Island, New York.
The wedding, occurring on a Sunday night during wartime, was not a large affair.  The couple married in St. John's Church, located near the Turkey Lane home of Nancy's parents, Lieutenant Colonel Archibald B. Roosevelt (U.S. Army) and Grace Lockwood Roosevelt.  Lt. Col. Roosevelt had been in active military service, and seriously wounded, in the Pacific Theater.  That September, he somehow made it home, quite ill, only shortly before the wedding.
Cold Spring Harbor is a bit west of Oyster Bay, a town that was a childhood home of Archie, his siblings and his parents.  His father, Colonel (and also President of the United States) Theodore Roosevelt, had died in 1919, a few years before Nancy's birth.  In 1944, her grandmother, former First Lady Edith Kermit Carow Roosevelt, age 83, was still living in her home, Sagamore Hill, and she was a beaming wedding guest.
So were Bill Jackson's parents, Justice Robert H. Jackson and Irene Jackson.  Travelling north from Virginia, they attended the wedding and then the reception dinner that followed at the home of Archie and Grace.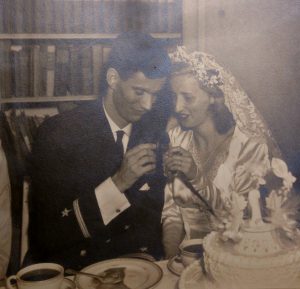 The Reverend Albert Lucas of St. Albans School in Washington, D.C., Bill's alma mater, officiated at the wedding.  Nancy was attended by her sisters and others.  Bill's best man was his father, Robert Jackson.  Reverend Lucas remembered, years later, what a "tribute"—I believe in both directions, son-to-father and father-to-son—"that conveyed to all present at the ceremony."
Bill and Nancy were married for fifty-five years, until his death in 1999, and she died in 2010.  I was lucky to know each of them, and to benefit from their generous friendship.  I still do.  And of course I am thinking of them on this, their anniversary evening.
*          *          *
For a 2003 film clip of Nancy Jackson recalling her father-in-law, whom she adored (you'll see, and the feeling was very mutual), click here.
—————–
This post was emailed to the Jackson List, a private but entirely non-selective email list that reaches many thousands of subscribers around the world. I write to it periodically about Justice Robert H. Jackson, the Supreme Court, Nuremberg and related topics. The Jackson List archive site is http://thejacksonlist.com/.  To subscribe, email me at barrettj@stjohns.edu. Thank you for your interest, and for spreading the word.