I'm writing from Krakow. Within many living memories, such as those that go back to the 1930s, or my own that includes decades of Cold War and "Warsaw Pact," Poland was a place far away, far from mind, far from connection, far from relevance.  Today it's pretty close, in each of those ways. I was part of a group that left JFK airport last night around 10:30, landed today in Warsaw, made (barely) our short flight to Krakow, took a bus into this gorgeous city, and reached hotel rooms in less than twelve hours total.
I'm here for the International March of the Living tomorrow, which is Yom Hashoah (Holocaust Remembrance Day), and for related events and learning. And all of the topics that are contained in Poland-history-War-Holocaust-remembrance are properly on many minds, connected to our lives, relevant to our times, and proximate.
Our sendoff event last night in New York was dinner with speakers who made these points, and who stand for them. Elly Berkovits Gross, a Holocaust survivor, told us of the miracles that saved her. Kenneth Jacobson, Deputy National Director of the Anti-Defamation League, spoke analytically of anti-Semitism, its history, and some of its current manifestations. Raymond Fishler, born near Krakow and also a Holocaust survivor, shared his story of loss, life and hope.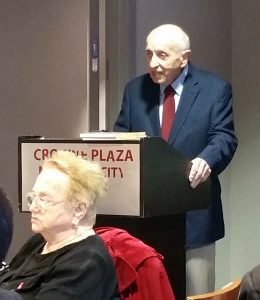 You can learn from each of these educators by clicking the hotlinks above, and from their books, films, and other online materials. They, and all that they have to teach, are as close by as, well, Poland.