I write from New York Mets Country—I work in Queens, just a few miles from Shea Stadium Citi Field, surrounded by many great people who are Mets fans.  (And I write from the baseball offseason—painful.)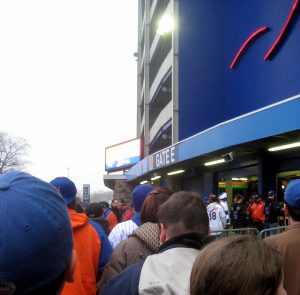 The Mets have a new general manager, Brodie Van Wagenen.  He is a former sports agent, including for some players whom the Mets, so now he, employs.
It's odd that he has no experience in the management of a baseball club.
It's also problematic that he has real conflicts of interest, between his loyalties to players he represented in the past and his job now to boss them.
Van Wagenen could turn out to be great.  But I'm doubtful.  I base this on the above, and on his goofy statements—yes, things he said; how he speaks about what he thinks—at his October 30 introductory press conference.  These included:
"All I can go off of is what my experience has been and try to surround myself with people that fill in the gaps that I lack."
"I hope to have an existing group of people that are here, and I hope to build around them, regardless of what the titles are."
"I want [the Wilpon family, which owns the Mets,] to be involved. The truth of the matter is, if they're not, that's bad ownership."
Yes, I know—former New York Yankees star, then Mets player and then Mets manager Yogi Berra also had an amusing way with words…  But Yogi was a field manager, not a general manager.  He knew, to put it mildly, everything that his job required.
Being General Manager is not only about knowing the game.  GM is a major business leadership position.  To be effective, a business leader needs to be, and to show it by sounding, sharp.  At least so far, Van Wagenen hasn't shown it.
Oh, and one more strike against Van Wagenen as general manager—it was Jeff Wilpon's idea.  The New York Times reports that Wilpon, the Mets co-owner and chief operating officer, is Van Wagenen's friend.
It was Wilpon—part of what New York sports fans all know to be the Mets, well, to borrow a phrase, "bad ownership" [So maybe Van Wagenen does speak well, and slyly?]—who first suggested to Van Wagenen that he should apply for the general manager position.
Van Wagenen was reluctant (good first instinct), but in the end he applied.  Wilpon then hired the candidate he had recruited.
* **
Pitchers and catchers report to spring training in just a few months.
And someday, Mets fans,…