Today, February 25, 2018, marks the 90th anniversary of the birth of the late A. Leon Higginbotham, Jr., a lawyer who became a leading United States judge and was, in all he did in a life of great achievements, an African-American pioneer who opened doors for many.  And he was "my" Judge.  So I'm glad to have this occasion to share memories of him.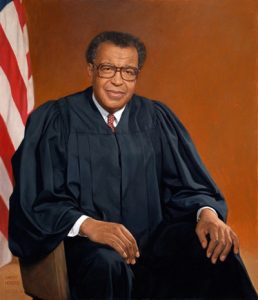 Leon, born in Trenton, New Jersey, was the only child of a father who worked as a laborer and mother who worked as a domestic.  His parents worked multiple jobs, as he also did, to get him an excellent education.  He soared academically at Antioch College and Yale Law School.
In the early 1950s, Leon Higginbotham began his legal career in Philadelphia.  Despite strong credentials, he found that the doors of each "downtown" (which meant white) law firm were closed to him.  Undaunted, he joined the leading "black" law firm and became a very successful litigator.  He also became counsel to the NAACP and was active in Democratic politics.
In 1961, President Kennedy appointed Higginbotham to serve on the Federal Trade Commission.  Although racist opposition by southern Senators temporarily thwarted the President's 1963 effort to appoint Higginbotham to the federal bench, President Johnson was successful in 1964 following Kennedy's death.
Judge Higginbotham served as a U.S District Court Judge from 1964 until 1977.  President Carter then appointed Higginbotham to the U.S. Court of Appeals for the Third Circuit, where he served until he retired from judging in 1993.
On the bench, Judge Higginbotham presided over trials and decided appeals that involved almost every issue, neighborhood, employer, law, program, and government office in the Third Circuit (Delaware, New Jersey, Pennsylvania, and the Virgin Islands).  He also, through hard work, eloquent words, and a notable commitment to justice, became a national legal figure.  Perhaps only the fact that no Democratic President had the opportunity to appoint a Supreme Court Justice during most of Higginbotham's judicial career kept him from joining the highest bench.
But Judge Higginbotham's judicial work only begins to tell the story of who he was and what he did with his time and talents.  He was a self-taught historian whose books and articles described the tragic, malevolent roles that law and lawyers played in erecting and perpetuating the American institutions of slavery and racial discrimination.
Judge Higginbotham was an energetic teacher and lecturer to generations of students at the University of Pennsylvania and other colleges and law schools throughout the country.  (A friend reminded me recently that at Penn Law School, Judge Higginbotham's portrait hangs on one side of an atrium with a curving staircase on each side; a student tradition is to walk only up the Higginbotham side, and to descend the other, so as never to turn one's back on "the Judge.")
Judge Higginbotham, as professor, taught difficult material brilliantly.  He also showed his students, by his own profound example, that there is always more to study and understand about the most fundamental topics of history, morality and law.
Judge Higginbotham also became employer, adviser and hands-on mentor to a thousand and more persons.  Each mattered enormously to him—he saw these friends and students as a core part of his work.  Higginbotham gave people opportunities, boosting them up so that they could make the most of these chances and then savoring their successes as if he were merely a proud spectator.
The Higginbotham life lesson is that he truly lived the core values—equality, opportunity, integration, social justice, harmony—that defined his judging, writing and teaching. I think these were parts of his credo:  Learn about real issues.  Expend enormous energy on work that matters most.  First see, and then help, the people who are excluded from the common dreams and opportunities of our society.  And always, always teach.
I had the great fortune, as a young lawyer, to work as one of Judge Higginbotham's law clerks for almost two years.  Ever since, and every day, I think of him.  I see—it is my habit to look at—his photos on my office wall.  And as a teacher, I try to continue a small part of his enormous work and legacy, and to make him proud.