The Longstreth Principle (TLP) holds that every time you watch a baseball game, you will see something you've never seen before.  This event/occurrence, sometimes just improbable and odd, sometimes also amazing, is thus called a "TLP."
At yesterday's game in Philadelphia (final score: Milwaukee Brewers 12, Phillies 3), I saw Brewers catcher Erik Kratz [Who, right?] double in the second inning.  The Brewers then were leading 2-0 (runs scored in the first).  But the second inning ended with Kratz stranded on second and no runs scored—his double meant nothing.
In the bottom of the third, the Phillies scored 3 times to take the lead, 3-2.  That still was the score when Kratz next came up, in the 4th, with one out and no one on.  Phillies pitcher Jake Arrieta promptly hit him in the shoulder.  Next batter:  double play, end of inning.  So Kratz's at-bat again meant nothing.
He next came up in the 6th.  The score was still 3-2, Phillies.  But the Brewers were threatening (see more on that below)—2 men on, only one out.
Arrieta again hit Kratz with a pitch.  So there's a TLP, at a couple of levels:  one pitcher hits one batter with pitches twice in one game.  (And it was Jake Arrieta, a big name/star/former Cy Young award-winner, hitting Erik Kratz, who is, um, not yet a household name.)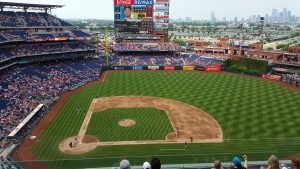 But that was not the best TLP that I saw yesterday.  It came in the top of the 6th inning, just mentioned.  The Brewers were trailing 3-2.  Travis Shaw (3B), leading off, bounced to pitcher Arrieta, who made a horrible throw to first that pulled the 1B way off the bag, but he still had time to make the catch and get back and touch first before Shaw arrived because he did not run it out hard—bad mistake, one out.
And then the TLP began:  Ryan Braun (LF) was awarded first base on catcher interference.  Then Jonathan Villar (2B) walked.  Then the much-noted (well, noted above) Erik Kratz was hit by a pitch—bases loaded.  That was it for Arrieta—the Phillies pulled him after 5.1 innings, leading 3-2, leaving the bases loaded.  They brought in a pitcher named Luis Garcia.  He promptly got Brewers SS Orlando Arcilla to strike out, badly.  So bases loaded, two outs.  And the Brewers pitcher was coming to bat.  So they replaced him with a pinch hitter, Ji-Man Choi.  He fell behind in the count, and then got back to 3-2.  And then he, a lefty, lined a homer down the left field line, just inside the foul pole.
So that was, for me, yesterday's TLP:  three batters got on base, none by getting a hit, each in a different way, followed by a grand slam home run.
Oh, and Erik Kratz?  He's age 37.  He played many years in the minors before making it to the majors in 2010.  Since then, he's had a fine, journey-man, but not starring career.  And, okay, he's not had so many at-bats this year.  But he was hitting .500 when the game started yesterday.  And after his opening double and then two HBPs, he flied out, and then, on a poorly-fielded hit to the pitcher, got to second base when the pitcher threw the ball away.  So Kratz went 1-for-3.  The game dropped his average a little bit.  But unless you get all picky about him having only 19 at-bats, his .474 makes him one of the very leading hitters in the National League.
#thebestgame