On a New York Mets game radio broadcast some years ago, the announcers hosted a big guest for an on-air visit:  Hall of Famer Tom Seaver, one of the best pitchers in modern baseball history, and the best pitcher and greatest player in Mets history.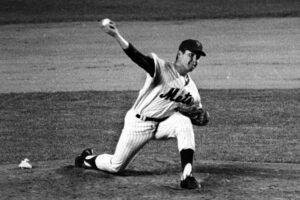 They had a good, wide-ranging conversation.  I don't remember particulars, but it was interesting because Seaver was very smart and, well, he was Seaver.
Then one of the announcers snuck in a commercial plug for the Mets local minor league team, the Class A short-season league Brooklyn Cyclones.  He said something like, "Come down to Coney Island tomorrow to see the Brooklyn Cyclones, The Mets of Tomorrow."
Then they went back to Seaver.  And he had to set the record straight.
Well actually, Seaver said, none of the Brooklyn Cyclones is going to make it to the Mets.  They're good kids and they love the game, but in baseball today the real major league prospects start in AA or AAA ball, or they get moved there before they turn 20.  The Cyclones are older than that.  They're guys who are going to finish their playing days in the minors.  They're in short-season A League because they're not prospects.  It's tough, but that's just the way it is—at some point every player doesn't have enough talent to keep playing, or to play at a higher level.
Whoa.  At least a few seconds of dead air followed that dissertation.
I remember hoping that no Brooklyn Cyclone, and even more that none of their parents or other loved ones, was listening.
The interview resumed, but they wrapped it up pretty quickly—after that one, they had to get "Tom Terrific" out of the booth.
Too terrifically truthful.  And honestly just great.