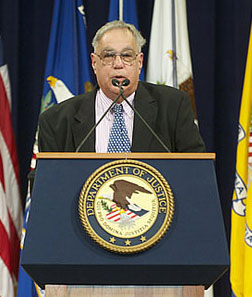 "Career federal prosecutor," a phrase that appears in many discussions of crime, justice and law enforcement issues, is a hefty credential.  It refers to someone who was hired by the United States Department of Justice as a young or young-ish lawyer, who then, over many years, worked and was promoted up the line, assigned to and in time handling numerous, increasingly complicated, often controversial, investigations, trials, appeals, and other federal criminal law matters.
Career federal prosecutors are distinguished—descriptively, if in fact not much in their skills, honesty and dedication—from DOJ political appointees, who are appointed and selected by presidential election winners and their nominees, and who often have political party identities and stay in office only as long as their party's president holds office.  (And "career" prosecutors are also distinguished from non-political appointees who serve as prosecutors for a while but then move on to other employment.)
David Margolis, who just died at age 76, was the quintessential career federal prosecutor.  He worked in the Department of Justice for more than 50 years.  He saw it all and did it all.  He worked closely with and was revered by hundreds, maybe thousands, of DOJ colleagues (I was once one) and others across law enforcement and other government agencies.  He worked well with political appointees from both parties.  They valued his law-smarts, his life-knowledge, and his justice-wisdom; his guidance and criticisms; his guff and his praise; his toughness and courage.  He helped all of them to stand up and perform their responsibilities, as he took the load, and sometimes the heat, of performing his own.
Margolis stories and lessons are and will be, and should be, many.  A personal one is his "death" (heart stoppage) twenty years ago in his DOJ office, and then the miracle of his fall to the floor restarting his heart—Jim McGee & Brian Duffy described that, and a lot of David's work, in their 1996 book Main Justice.
More of David is captured in this 2011 profile in the Brown University (his alma mater) alumni magazine, and in this Washington Post profile one year ago.
And here are the statements issued today, at this sad moment, by Attorney General Lynch and Deputy Attorney General Yates.
David Margolis, a great guy in addition to being a skilled lawyer, handled big public responsibilities. He worked forward, from matter to matter, giving each his best, usually doing excellent work, maybe sometimes screwing up, staying honest and apolitical, and showing up the next day to give Justice everything he had.
I hope that public service, and especially federal prosecution, continues to see his likes.